Reviews:
these are what some of the buyers said
"Quick replies, friendly and fast delivery"
- Fah, white flower and pearl ear stud
"Item looks exactly like what is shown in picture"
- Janice, simply vintage
"Nice packaging! And I love the hot pink envelope!"
- XY, ruby mystique
"Thanks, my daughter loves it"
- Cecelia, elegantly layered bracelet
Links:
Click Here to Visit Sweet Blog Shops
Click Here to Visit Best Blogshops in Singapore
Rate our website at Fashion Fanatics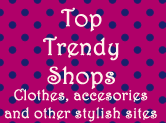 Featured Shopping Blog